Due to the current Covid-19 pandemic, many of us are adjusting to a new normal of working from home. Whilst there are benefits to this, it can present a unique set of new challenges. One such challenge is how to effectively communicate and collaborate with our colleagues without being in the same office.
The good news is there is a huge range of software designed for this purpose to choose from. In this article, we will cover the four most prominent on the market today and examine the advantages and limitations of these.

1. Microsoft Teams
Part of the Microsoft 365 suite, Microsoft Teams is a communication and collaboration platform which replaces Skype for Business. Microsoft Teams combines workplace chat, video meetings, file storage and collaboration on files.
Advantages:
Comes with Office 365 at no additional cost (depending on license)
Instant messaging eliminates the need for long email chains
Video calls with multiple colleagues at once
Easy to implement and use
File sharing and collaboration
App integration
Limitations/Issues:
Requires an Office 365 subscription
Team set up and permissions can be complex
2. Zoom
Zoom is a cloud-based online meetings platform which has recently gained a lot of attention due to its ease of use and media coverage. Video conferencing, chat and business telephony services are their main offerings.
Advantages:
Use of the video conferencing platform is completely free for up to 40 minutes with a maximum of 100 participants
Sign up is not required for participants by default
Easy to use and works on most devices
Up to 1000 video participants on business plans with 49 video feeds on screen
Screen sharing and annotation
File sharing
Limitations/Issues:
Information security professionals have raised concerns about Zoom's data security and privacy practises
"Zoom-bombing" – where unwanted users can enter a meeting and disrupt it if they find the meeting link
Audio and video quality can deteriorate when large numbers of participants join a meeting
3. Slack
Slack is an instant messaging application to which has been around since 2013. It is relatively similar to Microsoft Teams in terms of its offerings.
Advantages:
Ability to create channels to divide your teams and dedicate people to focused discussions and work
Channels allow you to host video calls, chat separately within your own team and host virtual meetings
 File sharing between teams for collaboration
Easy to use, simple design
Automated actions and reminders
Limitations/issues:
High volume of "urgent" messages
Can be difficult to retrieve important information from a Slack chat
Private channels cannot be changed to public if needed
Can become expensive for larger companies
4. Google Meet
Available as a part of G Suite, Google Meet is Google's enterprise video conferencing software. You can have a maximum of 250 participants on the enterprise license.
Advantages:
Comes with G-suite at no extra cost
Works in-browser on Google Chrome, Firefox, Microsoft Edge and Safari without installing any additional software or plugins
Integrates with other meeting solutions
Guests can join using a dial-in phone number in case of not having internet access
Limitations/Issues:
Dashboard is not as clean as in some other meeting software
No free option (you must have a G suite subscription to host meetings)
No end-to-end encryption of video meetings
Our location feature is back this month and stopping off at the exquisite Wynyard Hall.
Steeped in history, this spectacular North East landmark commands centre stage when it comes to romantic destinations!  Wynyard Hall (Wynyard Estate) started in journey in 1230 when the estate was leased to Sir Hugh de Chapell by King Edward 1.
Many families have owned the estate over the years, however, the hall as we know it today was not completed until 1846.  Recent investment by Sir John Hall was the turning point which catapulted the hall to becoming a leading hotel destination for not only people within the North East but from all over the world.
The venue provides guests with the opportunity to indulge in a range of luxurious experiences including flavours in the dining rooms, complete relaxation with the range of spa treatments and romance with the outstanding wedding facilities.
Wynyard Hall Gardens are a location within a location.  The stunning gardens and tea rooms provide visitors with the ability to escape day to day – it is like stepping into another world and with the addition of gorgeous homemade food, it really does make the perfect day out.
With the addition of the fabulous houses and development of Wynyard Village, the area has become a desirable place to live, work and play.
Corporate events are another aspect to Wynyard Hall with many exhibitions and conferences being held at the venue.
As a real bonus we are running a competition with Wynyard Hall where one lucky winner can enjoy afternoon tea for 2.  We would love to know what celebrity you would take to afternoon tea – you can comment on our social media posts or email enquiries@bowe.co.uk with your answer.  Keep an eye on our website for details of the date of the prize draw.
https://www.wynyardhall.co.uk/
Using Microsoft Excel is an excellent way to quickly generate calculations on your in-house data but things can get real frustrating real fast.
The first thing I learnt in Excel was to click on a cell, click the plus and click another cell and it totalled it up. Then I could drag it down the list, it was effortless, great I thought!
However, one thing I did initially struggle with on my first few days, was summing information down but then needing to calculate on something that always stayed in the same cell like a tax rate.  This is where absolute cell references comes in!
F4 key / Using the dollar sign: $
This bit of information is key, if you are clicking on something which will always stay in the same cell, but everything else is in sequential cells moving down or across then press the F4 key.  It will immediately insert dollars on to the cell in the formula which is a sign it has locked the reference with that cell.
For example: If you had a tax rate in cell A1 it would change it to $A$1 when you press F4.
Lets watch a video for a better understanding
First it will take you through relative cell references which we are all used to which is when excel fills the formula down for you. Then it will take you through absolute cell references from the 1m 45seconds in.
More Information
Using Microsoft Excel or other spreadsheet applications like Google Sheets can being great benefits to your day to day job allowing you to quickly organise information, sum up figures, and react to changing data patterns inside your business. Here at Bowe we are always just a phonecall away to help in situations where you might need some advice.  Contact us here to see if we can help.
Phishing is a form of cyber attack where attackers attempt to trick users into doing 'the wrong thing', such as clicking a bad link that will download malware, or direct you to a website which may look identical to the original website, but may harbour spyware or be designed to collect your personal or financial information. In 2018 alone, phishing was responsible for $48,241,748 (£37,232,981.11) in losses.
Phishing can be conducted via a text message, social media, or by phone, but the term 'phishing' is mainly used to describe attacks that arrive by email. Phishing emails can reach millions of users directly, and hide amongst the huge number of benign emails that busy users receive. Attacks can install malware (such as ransomware), sabotage systems, or steal intellectual property and money.
Phishing emails can hit an organisation of any size and type. You might get caught up in a mass campaign (where the attacker is just looking to collect some new passwords or make some easy money), or it could be the first step in a targeted attack against your company, where the aim could be something much more specific, like the theft of sensitive data. In a targeted campaign, the attacker may use information about your employees or company to make their messages even more persuasive and realistic. This is usually referred to as spear phishing.
What does a Phishing email look like?
In this example above, we can see an email purporting to be from OneDrive, advising that there is a file which has been sent through to the user. Clicking the link in this email will result in malware being installed on your system. This is a common method of phishing where the attacker creates a message which would not look out of place amongst your normal work emails.
In this example above, we can see that an attacker has sent out an email attempting to get users to click the link and enter their Apple ID credentials. This may look convincing upon first glance, but as we look into it further, we can see that it is clearly not a genuine email. The combination of a non-apple email address being used to deliver the message, a generic and non-personalised greeting and the link pointing to a destination which has nothing to do with Apple are clear giveaways.
This example is one of the most common variants of a phishing email. On the surface, it looks pretty convincing – the branding is correct, the sign off seems correct and the look of the email seems legitimate apart from the recipient's name. The only way you would be able to tell that this is not a legitimate email is to check the link in the email by hovering over it. In this case, it brings you to a false logon screen which is designed to steal your password. Another giveaway can be the email address that the message has originated from. Unless it is an @netflix.com (NOT @mailer.netflix.com or similar) email address, chances are it's a phishing attempt.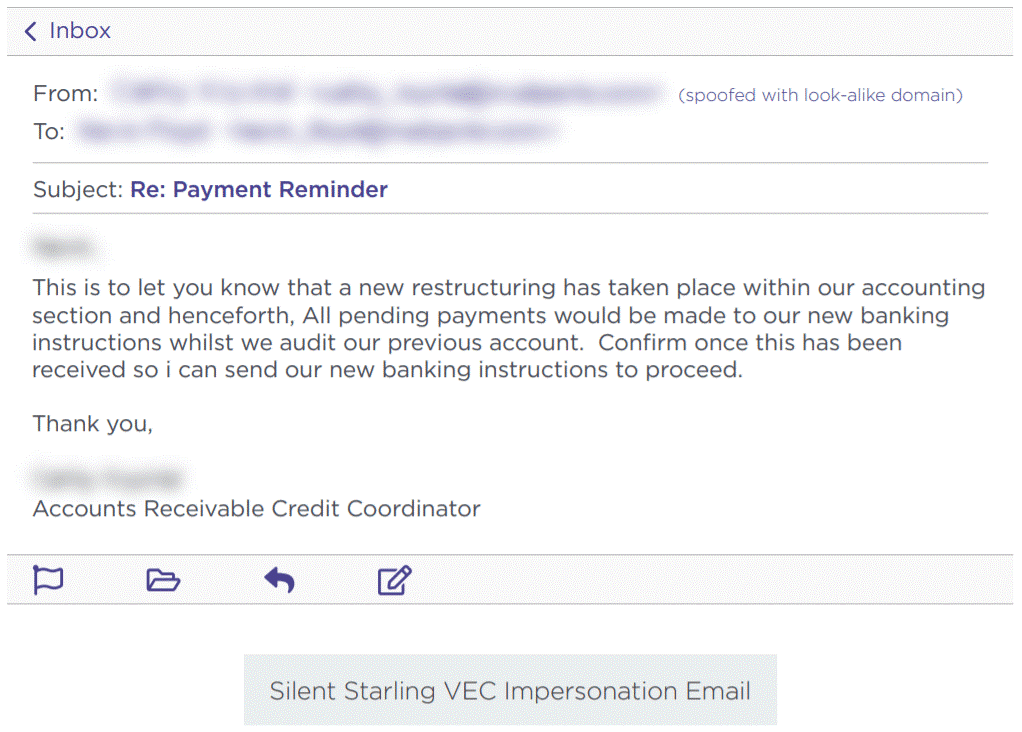 Another common type of phishing email is what is commonly known as 'change of bank details fraud' or 'invoice fraud'. This involves a fraudster posing as a member of the accounts department of a supplier. The fraudster creates a convincing looking email and advises that their bank details have changed with the aim of getting you to make payments to the new account.
In order to avoid scams such as this, it is essential that you work on a basis of distrust when it comes to financial matters. If you are contacted out of the blue by a supplier to advise that their bank details have changed, call the customer on their official number (not the number in the email) and confirm this. If you receive an invoice that doesn't seem quite right or that comes from a different email address, call the customer and check. It is better to be overly cautious than reckless – especially when bank details are involved.
So how can we avoid becoming a victim of these sorts of attacks?
Firstly, we suggest treating every email with a degree of suspicion. Think about the following:
Is the sender's email address correct? Often attackers use similar email addresses to legitimate senders so it is best to check this very carefully
Were you expecting this message?
Are there any 'red flags' such as spelling mistakes, incorrect information or suspicious attachments?
Is there a request for payment or for you to sign in using your password?
Does the message have a threatening tone? For example, does it advise that unless you take action immediately there will be severe consequences?
Do you use the product which is mentioned?
Is the email from someone you know and communicate with regularly?
When in doubt, it is always better to be safe than sorry. If the email purports to be from someone you know, call them and check that it is a legitimate message. If it appears to be from your bank or a government department, call them on the correct number and confirm (NOT the number in the email you have received, but the number from their official website).
Follow us to keep updated with all the latest IT news, tips, tricks and best practices.
References:
https://www.ncsc.gov.uk/guidance/phishing
https://it.sheridancollege.ca/service-catalogue/security/images/phishing-samples/amazon-phish.jpg
https://resources.infosecinstitute.com/category/enterprise/phishing/#gref
https://heimdalsecurity.com/blog/vendor-email-compromise-vec/
Header image credit – https://www.freepik.com
As a business, IT security should be your primary concern. Although passwords have been around since 1961, they can be one of the first steps in keeping your business safe but can often be the weakest link.
Password Policies and Procedures
Having a standard policy for passwords – e.g. Minimum character count, at least 1 capital letter, 1 number and 1 symbol – is a good start to improve this typically weak area.
All of this however will be inevitably in vain if you, as a company, do not have proper procedure in place to follow regarding passwords.
This could include for example:
Not disclosing your password.
Not leaving your password written on a document left lying around the office.
Not left cached inside browser windows.
Having a set procedure in place for your staff to follow can be crucial in making sure your business stays safe and secure.
The impact of non-secure passwords
A weak or non-secure password can cause a plethora of issues for you as a business.
Your password is the key to accessing your accounts and your systems, especially on the cloud, which means a weak password is like leaving the key in a lock. Having the same password for multiple accounts across your business can be likened to that same key being able to open all the other doors.
Once those doors are open your business is vulnerable, this could be in the form of ransomware or data theft or a whole host of other issues that could plague your business.
These threats could cause business downtime leading to a loss of time and money whilst you try to fix the problem and recover from it, not to mention GDPR.
Password Managing Applications
A password manager is an application that both generates secure passwords and stores those passwords to be used later.  All you need is to remember your 1 master password to access the application.
Advantages of these are:
You only need to remember one secure password.
You can then use large strong generated unmemorable passwords for every other service, as you don't need to remember those.
They can be auto filled to your website login boxes so you don't even have to type them in making logins to websites almost immediate.
Works across multiple devices. The phone APP and chrome browser extension work in tandem, so your passwords are all with you, wherever you go.
As an extra layer of security, you should turn on two factor authentication (2FA) which we will cover later.  This would mean that to access your password management software you would need a code generated on your mobile phone app typically google authenticator or a variant of that to login.
What we recommend
Here at Bowe, we recommend our businesses follow a standard business procedure for passwords.
This standard procedure involves:
Changing passwords at every agreed interval – 30 days recommended
Having a minimum of 8 characters to a password, at least 2 numbers and including at least 1 special character within the password.
We encourage this to try and make sure all our partners are as secure as they can be and limit the risk of potential threats to their business.
If in doubt you can check your password on  https://www.haveibeenpwned.com/passwords to see if your password is on a password breach list of approximately 555 million passwords. If it is, change it immediately. Password breach lists are used by hackers to attempt access to accounts. The is serviced by https and is ran by trusted security researcher Troy Hunt.
Two factor Authentication
Anytime two factor authentication is available we recommend you set it up. It is worth noting two factor authentication through SMS is not as secure as google authenticator 2FA due to the possibility of a sim swap attack.  This involves someone persuading your mobile phone carrier to swap your mobile number to their new number with a story that they have got a new phone.  If they can convince the mobile phone carrier to change it, or by answering the security questions correctly, then your two factor codes will go to the attacker allowing them to reset your password and gain access to your accounts.
For the highest security two factor authentication, we recommend using a Yubikey.  These are USB devices which have a button on them for you to press when generating a code.
Biometric Authentication
You will have heard of Face ID and finger print scanning.  These are a way of proving that you are you.  These are a great way of adding additional layers of security if the option is available to the system.
Summary
There are many ways in this day and age to protect your online accounts from hackers and a multi layered approach is always best.  If there are ways of adding extra security so you are not just relying on a password to gain access to systems, then those should be investigated.
---
Top Image Credit: Technology vector created by slidesgo – www.freepik.com
We love sharing good news and one of the features we really enjoy bringing to you is our look at a location in our region.
Locate IT is our regular look at different places in our region and this month we are so pleased to focus on the beautiful Alnwick Garden.
The focus is to be a garden for everyone and a place where everyone gets a warm welcome.  The brainchild of The Duchess of Northumberland, The Alnwick Garden is a multi-award-winning visitor attraction offering a stunning range of events, experiences and atmospheres.
All year-round visitors can enjoy the gardens and various dining options.  With seasonal activities including summer street theatre programmes, there is always something new to get involved with.
Above all the Alnwick Garden is a charity.  Any surplus from running the Garden is re-invested into improving and developing The Alnwick Garden for the future through charity programmes, helping people in and around Northumberland from a variety of social backgrounds.
With Christmas also fast approaching there are even more magical reasons to visit the garden and explore the wonderful events, including the winter light trail and winter bumpers.  You can also meet Santa and get started with your Christmas shopping by checking out the winter stalls.
Follow this link to see more details of what is happening over the festive period at The Alnwick Garden.
If you are anything like us, we love getting out and about exploring the constantly evolving activities we have on our doorstep.  So, we are going to be adding blogs about various places across the region to celebrate the many reasons why this is such a great place to live and work.
In addition, the North East has the most spectacular landscape in the Country (perhaps we are slightly biased!)
This week's blog looks at Ouseburn in Newcastle.  A fabulous area with an exciting range of places to visit, relax and eat.  The Victoria Tunnel, an underground wagon way, is an incredible feat of Victorian engineering .  This was a key transportation link during the second World War and in more recent times is open as a visitor attraction.
Interestingly, recent years have also seen Ouseburn develop into one of the most vibrant creative communities in the North East.  The Toffee Factory is a fabulous location having been beautifully refurbished into a high quality, contemporary serviced office space for a range of creative businesses, from start-ups in a shared workspace to larger offices for established companies.  Our passion is very much with progress, innovation and culture so it's great to see Ouseburn be the base for a wonderful range of artists, musicians and designers.
Why not check out the events happening and enjoy.
Thank you to Richard Kenworthy for the amazing photograph.
#itsnelife #itsnepeople #itsnefood
Can you really afford not to have a back-up plan?
We recently held our first customer seminar, over 2 sessions and had over 25 customers and prospects from businesses ranging from under 10 employees to over 200 employees' businesses.
The event was looking at Datto and how this innovative cloud-based solution can benefit your business.
The event started with introductions and it was good to see lots of business cards being exchanged.  As well as being dedicated to IT, we are very eager to always incorporate people interaction in our business.
Datto gave an overview of the dark web and where ransomware attacks come from. They ran a live ransomware attack and spun the system back up in 4 minutes.  To recover from a cyber-attack with Datto cloud back up, it only takes as long as it takes the server to restart.
The biggest threat to your system isn't cyber-attacks or fire, it's human error!
So, having a system like Datto in place means your business can deal with interruptions and avoid downtime.  We all know time is money so we really encourage you to get in touch and have a look at what a difference Datto can make.
If you didn't get the chance to come along but would more information or a free demo give us a call on 0191 214 1750 or click here for more ways to contact us
Look out for more customer events coming up over the next few months.
It is that time of year when we all think about holidays, relaxing and sharing social times with friends.  Perhaps you are partial to a cocktail or two?
When we were thinking about our latest promotional offer, we wanted to embrace the Gin culture that is going on and reflect that in a sweet giveaway.
So, imagine our delight when we discovered The Chocolate Smiths in Newcastle with their amazing range of handmade sweet treats.
Here is their story in the words of Steffi.
Where it all began
The Chocolate Smiths all started back in 2014 when Steffi was just 22. Steffi Smith is a passionate foodie and wanted to create a chocolate brand that was exciting, innovative and quite simply, gave people an escape from reality. Even if it was just for one bite! She began making the Bizarre creations from home, gaining wonderful stockists along the way and doing local markets.
Fast forward to now The Chocolate Smiths have their own kitchen and shop in West Allotment, Newcastle. All of our chocolate is handmade, taste tested (many times over for quality control purposes of course) and hand wrapped by our small team of experienced chocolatiers.
'We can't thank everyone enough for all of your support up until now, and we can't wait to share all of the exciting plans we have for the future with you! This is only the beginning' Steffi
Back to IT
We asked them if they could produce a bespoke chocolate bar incorporating "Gin & IT" and they did!
The research into the health benefits of Gin is very interesting and matches well with our services:
The antioxidants in Gin can help prevent wrinkles – our IT support reduces the worry lines
Gin can help fight infections – our antivirus solutions are strong, smart and robust
Good Gin is not expensive – neither are we!
So, for a healthy review of your IT and to claim your free bar of "Gin & IT" chocolate – give us a call on 0191 214 1750 or click here for more ways to contact us
Part of the fabric of our business are the strategic partnerships we establish that help us to continue to deliver the best products and services to our clients.  In addition, relationships with proactive organisations who share the common goal of raising the profile and performance of our region is a top priority for us.
So, with that in mind, we are delighted to announce that we are now members of the North East Automotive Alliance.  This sector is a significant contributor to the economy of our region, so we are passionate and privileged to be involved as members.  We already have a significant number of clients in this sector, so we are keen to develop on that for the future.
Here are some of the objectives of the NEAA:
A network to sharing best practice, benchmarking and solving common problems
Access to business excellence, skills and training
Driving innovation and adoption of new technologies & processes
A focal point for collaborative projects and access to funding
A voice for the sector & interface with Government bodies
Promoting the sector regionally, nationally and internationally
Align to regional and national strategic objectives (i.e. Re-shoring)
Having been in business for over 25 years in the North East, we have seen the expansion of this sector and how the supply chain has evolved.  With an interesting political and commercial landscape ahead, it is vital we continue to promote and develop the opportunities, skills and people involved in this innovative sector.